Thrustmaster TMX Force Feedback racing wheel for Xbox One and WINDOWS QG9-00116
Thrustmaster TMX Force Feedback racing wheel for Xbox One Certified Refurbished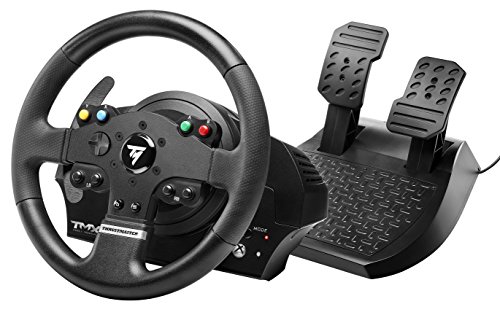 The Thrustmaster TMX comes with some very impressive technical specs: the end result is a high-performance wheel that is both solidly-built and precise, delivering unrivalled flexibility for gamers of all levels – from beginners to experienced racers – and on all types of racing circuits. Official racing simulator for Xbox One (also compatible with Windows). 900-degree Force Feedback system: Mixed belt-pulley and gears system with metal ball-bearing axle. Wide pedal set included: Each pedal's angle of inclination can be adjusted (three adjustment angles available). Compatible with Thrustmaster accessories: Compatible with the T3PA* and T3PA-PRO* (Thrustmaster 3 Pedals Add-on) pedal sets; compatible with the Thrustmaster TH8A* shifter.* Sold separately. Refurbished Condition. 
900° force feedback base. Mixed belt-pulley and gears system, metal ball-bearing axle.
Realistic "competition" wheel design: 11"/28 cm in diameter, with an ergonomic design perfectly adapted for all racing games
Xbox One certified embedded software: the racing wheel is automatically recognized by the Xbox One , compatible in the console's menus, compatible with all Xbox One racing games supporting racing wheels.
Also compatible with PC (Windows 10/8/7/Vista) ensured thanks to the Thrustmaster drivers.
Large, optimized pedal set: Pedals with wide foot rest, each pedal's angle of inclination can be adjusted, brake pedal with progressive resistance.